NCI will seek to encourage educators to provide learning opportunities as a part of their curriculum that promotes cross-cultural communication and collaboration between students in the United States and students in economically disadvantages communities around the World.
Promote and support the teachings of Integral Education both locally and internationally by training educators in the principles and techniques of Integral Education.
Aids children in economically disadvantaged communities by equipping them with the resources necessary to support active learning including necessary food, clothing, school supplies, infrastructure, and technology.
Sri Aurobindo
Sri Aurobindo (1872-1950) was an Indian Philosopher who evolved a new method of spiritual practice called Integral Yoga. Its aim is a spiritual realization that not only liberates man's consciousness but also transforms his nature.
The Mother
The Mother (born Mirra Alfassa 1878-1973) was Sri Aurobindo's spiritual collaborator and guide for the spiritual community he founded. In 1952 she established Sri Aurobindo International Centre of Education in Pondicherry.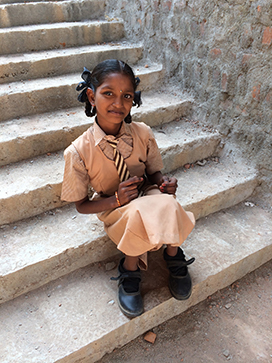 The village of Doopad in India is like most villages nearby it– the pulse of the village lies in its farming community, run and maintained by its proud laborers. The pride and integrity of these laborers is evident through the tireless hours they put into farming the land, but it goes even further in the next generation. Kalyani is the face of this generation. The daughter of two laborers, Kalyani is highly intelligent and aspires to be educated. Like the generation before her, she works with integrity and pride and dreams of wanting to be a doctor. Unfortunately, the dismal financial situation of her family does not allow her to go to school and with your help and anchoring, Kalyani's basic rights to an education will be fulfilled and the mere possibility to practice medicine in her village will be something her village has not had the privilege of seeing yet.
It has been said that it takes a village to raise a child. Prem Kumar, a young boy who lost his mother, resides with his father and his sister. Kumar's father works as a herbalist but struggles to meet the financial necessities of raising two children, both of whom dream to be educated. Both Kumar and his sister exhibit exceptional intelligence, with Kumar dreaming of becoming a revenue officer. With the help of sponsorship, we can help be the village that it takes to help raise and to educate Kumar and his sister, fulfilling a dream that would otherwise seem unattainable.
Shravani is a prime example of why so many educators enter into a field of work that aims to fulfill a child's basic dreams of receiving an education. School Administrators at her school have been working hard to keep Shravani in school due to the promise she exhibits a bright future. Shravani previously attended a different school where physical abuse was prevalent and opportunities like physical education, cultural activities, and a respectful education were not present. At her current school, Shravani feels validated and inspired by her teachers. She has big dreams of becoming an educator whereby she can add to the current school by taking it into higher-level grades. Shravani lives with her grandparents who have taken on the prime responsibility of raising her due to her father's mental disability and it is becoming increasingly difficult for them to continue paying for her school tuition. With our help, Shravani can continue being a beacon of light for her family and for the future of her village.
Abhinay is the picture of determination and of persistence. Having been born handicapped, Abhinay has not allowed his handicap to deter him from attending school and from now wanting to pursue higher education. He sees education as a means of bettering his current condition and to be able to give back more positively to his farming village by becoming an educator. His father, a farm laborer, earns a mere $300-$400 per year, and with having to provide for both Abhinay and his sister, paying for Abhinay's continued education seems to be a near impossibility. Our assistance in helping Abhinay's continued education will undoubtedly aid Abhinay in standing up on his own feet and thereby providing more soundly for his family and for the future generations of his hometown.
What is Integral Education?
Integral Education is a philosophy developed in 1926 by Sri Aurobindo and his collaborator, The Mother (Mirra Alfassa). This type of education helps a child develop:
An emotionally intelligent, sensitive, and energetic personality
A wide-ranging intelligence and will
Spiritual qualities that unify and nourish the inner self
Our aim is to open children's minds to the world outside of their classrooms, their countries, and their cultures, and to make them more aware and mindful of their own internal world.
Integral Education is an educational process through which students are provided a dynamic group learning environment. It encourages conscious decision making, personal introspection, self-discovery, innovation, and respect for individual differences and cultures.
We believe that children come into this world whole. With the right care and guidance, each child's natural qualities and gifts can be nurtured so they can grow up, realize their full potential and become valuable contributing members of their community.
The new aim is to help the child to develop his intellectual, aesthetic, emotional, moral, spiritual being and his communal life and impulses out of his own temperament and being," says Sri Aurobindo.
Integral Education is an educational process through which students are provided with a dynamic group learning environment. It encourages conscious decision making, personal introspection, self-discovery, innovation, and respect for individual differences and cultures.
New Creation International envisions the development of a worldwide network of educational systems that fosters the development of Global Citizens who are positioned to reshape communities and solve World challenges.